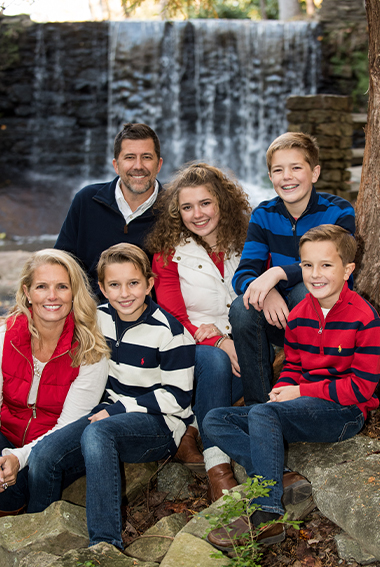 Meet Our Canton, GA Oral Surgeon
Meet Dr. John W. Carey, DMD
When it comes to professional experience, there are few dentists in the area that have a resume like Dr. John Carey. As a maxillofacial surgeon with well over two decades of experience who is dedicated to providing patients everything from dental implants to extractions and more, he's excited to make your next visit a comfortable and productive one. To learn more about his background and his life outside of North Metro Oral & Implant Surgery, keep reading!
Professional Education
Dr. John Carey started his undergraduate education at the University of Delaware, where he earned his bachelor's degree in Biology. He then attended the Temple University School of Dentistry to earn his Doctor of Dental Medicine degree. Finally, his residency in Oral and Maxillofacial surgery was completed at Emory University and Hospital. He serves the residents of Canton, Woodstock, Kennesaw, Marietta and the communities of Northwest Georgia comprehensive oral and maxillofacial procedures.
Continuing Education
Dr. Carey is a board-certified Diplomat of the American Board of Maxillofacial Surgery. He has over 24 years of practice experience in his field and shows no signs of slowing down. Today, he is the President and founder of the North Metro Study Club, which was previously called the Cherokee Study Club. When he's not working in the dental office, he is on staff at Northside Cherokee Hospital. In order to keep his continuing education sharp, Dr. Carey is a member of many professional organizations. This includes the American Dental Association, the Georgia Dental Association, the American Association of Oral and Maxillofacial Surgeons, the Southeastern Society of Oral and Maxillofacial Surgeons, and the Georgia Society of Oral and Maxillofacial Surgeons.
Dr. Carey also carries multiple certifications as part of his medical training, including in BCLS and ACLS. While his current expertise includes dental implants, wisdom tooth extractions, oral surgery, bone grafting, treatment for facial traumas, removal of impacted teeth, orthodontic exposures and other treatments, he's always learning more and honing his skills!
Outside of the Dental Office
Dr. Carey cares deeply for his community, which is why he's a member of good Samaritan Dentistry. He is currently the only oral surgeon that is part of this organization and feels great pride in helping underserved communities receive necessary dental care. When he's not working or volunteering, he's spending time with his loving family. He and his wife are happily married and raising four children, including one daughter and three sons. His favorite hobby outside of work is coaching youth sports teams.